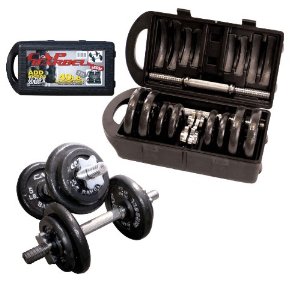 This 40-Pound Dumbbell Set
is fantastic value and excellent for building your very own gym at home. If you don&#82DZt have the space then this one piece of training equipment is all you need to start weight training to build or tone muscles and once your finished your workout you can roll them under the bed.
The dumbbells also come in a plastic carry case for long term storage or easy transportation.
The set comes with 4 by 2.5 pound plates, 4 by 5 pound plates, 2 handles and 2 collars.
The grips are ergonomic and comfortable, comes with rubber trip collars and has a semi-gloss finish. The carry case measures 20 by 9 inches and has a total weight of 40.15 pounds.
Cons: The carry case is not designed to be used for constant transportation. The plastic case is not durabble enough, but is ideal for permanent storage. The other downsize with this set is they are threaded collars so it does take some time to change the weight settings, when you are in the middle of a workout the last things you want to do is take time out changing weight settings.
Pros: This dumbbell set is well priced and the quality is excellent for the price. I have personally bought 3 sets and have them pre set at different weights to saves time changing the weights constantly and allow me to move onto the next exercise.
Overall this is good value and the product is durable enough to provide many years of good service. It has a 4.5 star ratings in Amazon and the fact the weights are adjustable they can be used by men, women, and young adults for aerobic, general fitness and for the more serious minded. With the plethora of weights for sale available on the market these days, this one is well priced and great quality.

 People who bought dumbbells also considered kettlebells as an alternative or addition to their home gym