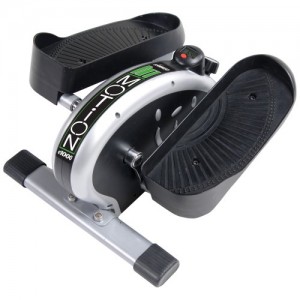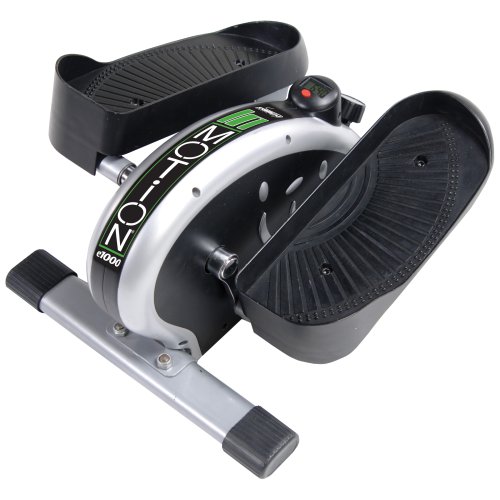 You want something compact that can provide you with a cardio workout and tone your muscles at home or in the office? The Elliptical trainer offers just that. This Ellitical Trainer is a sturdy design made of steel and weighs only 24lbs, there are no arms or front console on this models making it very portable to move from room to room or take to work for a lunch time workout and then can easily be stored under the desk for later use.
This unit can be used while standing or seated and there is little or no impact on joint muscles as your feet stay firmly planted on the pedals using oscillation motion in a forward and backward direction.
Don't let the size fool you though, it can give you a great cardio workout and by staying in your target heart rate zone it will allow you to lose weight and tone your lower body in an effective manner.
To calculate you target heart rate zone refer to my article on heart rate monitors, this article provides a detailed look at how to calculate you target zone and reviews on various monitors that you can use in conjunction with your fitness programs. As with all fitness workouts, knowing and then achieving your heart rate zone while working out will accellerate you fitness development to another level in the quickest possible time.
Back to the Elliptical Tainer review, the tension on the pedals is adjustable which is important when your fitness improves, the pedals can work in a forward or reverse motion which helps change up your routine and allow for other muscles to be targetted.
The foot size is 20 inches by 12 inches and as mentioned earlier only weighs 24 lbs.
This trainer comes with an electronic monitor that tracks the number of strides per minute, exercise time and more importantly calories burned.
The reviews on this product are excellent with 4 star reviews on Amazon with many satisfied customers.
Overall, a great, compact and portable product that has the ability to be effective for weight loss and toning your lower body. I also like the fact that it&#82DZs portable and is easily moved around the house, great for working out while watching your favorite program.
Another huge plus is there's very little impact and no jarring on joints such as  knees, ankles or back like there is with jogging but provides similar benefits.