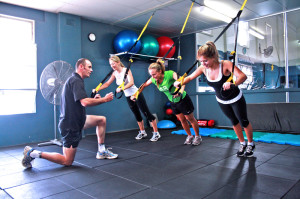 Resistance bands are one of the most underrated exercise equipment on the market, probably because they look like something that a child would play with. Let me tell you though, they can be used for a total body workout and can be used in conjunction with other fitness equipment and routines. If your trying to decide how to get started in fitness and/or strength training then starting with resistance bands can be one of the best ways to start. They are less intimidating  than free weights and also many times cheaper than buying machines or setting up a gym room full of weights.
Let me list some of the benefits of getting a set of resistance bands and starting an exercise program.
Very portable, great when travelling, require a small amount of space to pack in a suitcase.
Require a small amount of space to train with.
They are cheap to buy.
Add some variety to your workouts.
Can be used for rehabilitation from injury or full on strength and fitness training.
Varying degrees of bands with different tensions depending on your strength and fitness levels.
There are various resistance bands on the market but one that I will recommend here is great value, great quality and for a low price you get a four different tension bands, a workout manual, a door anchor and much more.
Set includes:
1 Blue Band (7 lbs.)
1 Red Band (12 lbs.)
1 Yellow Band (17 lbs.)
1 Black Band (25 lbs.)
1 Pair of Improved Soft Grip Handles
1 Pair of Ankle Straps
1 Door Anchor
1 Workout Manual with 101 Exercises
1 Aylio Travel Pouch
*Free Instructional Videos On YouTube (Search for Aylio)
*Lifetime Warranty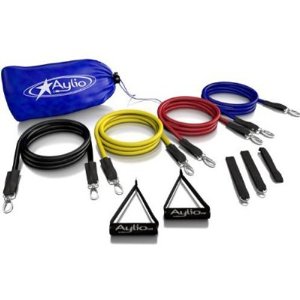 Aylio Basic Resistance Bands Exercise Set
When starting an exercise routine, begin by exercising the main muscle groups and then adding more variations later when your fitness and strength improve. The main muscle groups to start with are chest, arms (biceps and triceps), shoulders, back, core (stomach, lower back) and legs (thighs and calves). It sometimes requires some ingenuity to figure out different exercises that you can do, the possibilities are endless though.
If you do run out of ideas with specific exercises and are looking for one or two excellent books that will not only explain the correct use, but also contain a huge range of exercises you can perform with exercise bands then take a look at
Strength Band Training by Phil Page
and
The Resistance Band Workout Book by Ed McNeely
. They are two excellent books that I highly recommend and contain all the necessary information required to get the most out of bands.
Remember as with most exercise equipment, they are only effective if you use them, if you have decided to buy a set of resistance bands, give them a serious tryout for at least three months before deciding if they work or not. Train with them at least three times a week for best results.