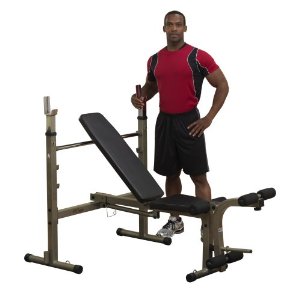 Getting started in weights training doesn't require a great deal of equipment and should not break the bank. Once you are fully committed and know that you will be training long term, than it may be an idea to buy better quality set of weights, or simply add weight plates to your existing set.
For beginners who want to start an exercise program to tone your body and improve your fitness and who are short on space I would suggest a kettlebell weight set
, you can use them for hundreds of different exercises and can target all parts of the body. This set contains four kettlebells, one 5-pound, one 10-pound, one 15-pound and one 20-pound. This is a great set to begin with, they are made of cast iron and have a vinyl coating.

For those wanting more versatility and have space dedicated for some equipment, I would look at buying the following equipment.
50lb cast iron dumbbell set

CAP Barbell Regular Solid 7 ft Bar

Olympic Plates
consisting of two 2.5-pounds four 8-pounds and two 21-pound plates
Olympic Bench
This will give you plenty of options to choose from and an almost limitless number of exercises. This particular weight bench is adjustable with several inclines, can be used for leg extensions and can be folded if desired.